Best Social Media Affiliate Programs- In this section, we'll talk about some of the best social media tools that offer recurring affiliate programs to promote to your audience.
What Are Recurring Commissions?
Before diving into details, we'll briefly discuss recurring income affiliate programs so you can better understand. Recurring affiliate programs pay you commissions for as long as your referrals make payments.
Here's a nice illustration of the difference between one time affiliate sale vs recurring sales (image credit).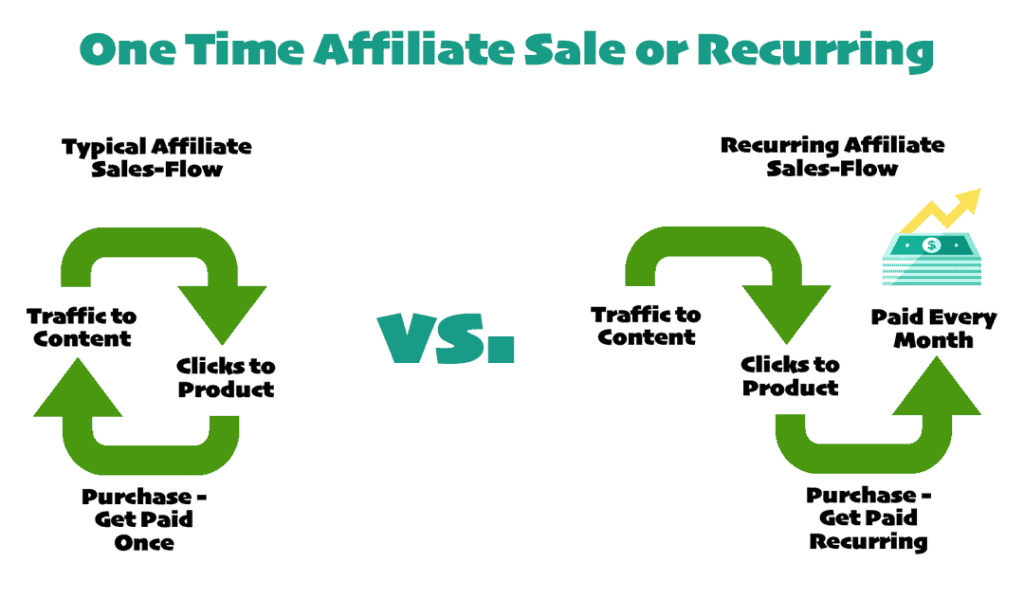 1. TubeBuddy
TubeBuddy is one of the most popular YouTube channel management and video optimization tools that helps YouTube video creators bulk video processing, video SEO, promotion, and so on.
How much can I earn from it?
You will earn a 50% recurring commission from people you refer to them as long as they remain a paying customer, every month.
How to sign up for TubeBuddy?
Visit this page to become an affiliate for free.
2. SocialPilot
SocialPilot is an affordable social media management tool for bloggers and small businesses that can help with social media scheduling, social media analytics, team collaboration etc.
How much can you get paid?
You can earn a 30% recurring commission for all the SocialPilot subscription sales and you get a commission for every renewal.
How to become an affiliate with SocialPilot?
Here's the page to get started with their affiliate program. They pre-approve all affiliate applications so you can start promoting their tool right away.
3. ContentStudio
ContentStudio is an incredible content marketing and social media management platform which is used to discover, schedule and analyse your social media content.
How much can you earn from their affiliate program?
You can earn 30% of commission for any paying customer that comes through your referral link until the life of that customer.
How can you become A ContentStudio partner?
Visit their page to apply as an affiliate. Once approved, you'll get a unique referral link so you can start promoting their product.
Hope you enjoyed reading this article on best social media affiliate programs that help you earn a recurring commission.
Cheers!!!
P.Phani Kiran