What are Recurring Commissions?
Best web hosting affiliate programs that help you earn a recurring commission, we'll briefly discuss recurring income affiliate programs so you can better understand. Recurring affiliate programs pay you commissions for as long as your referrals make payments to the merchant for Product renewal.
Example, BeRush (affiliate program of SEMrush) will pay up to a 40% commission for the life of a customer.
That means, recurring affiliate programs help you earn commission for every purchase / renewal one of your referrals makes, not just on their first purchase. So you'll earn money as long as your referrals remain as an active customer.
Here's a nice example of the difference between one time affiliate sale vs recurring sales (image credit).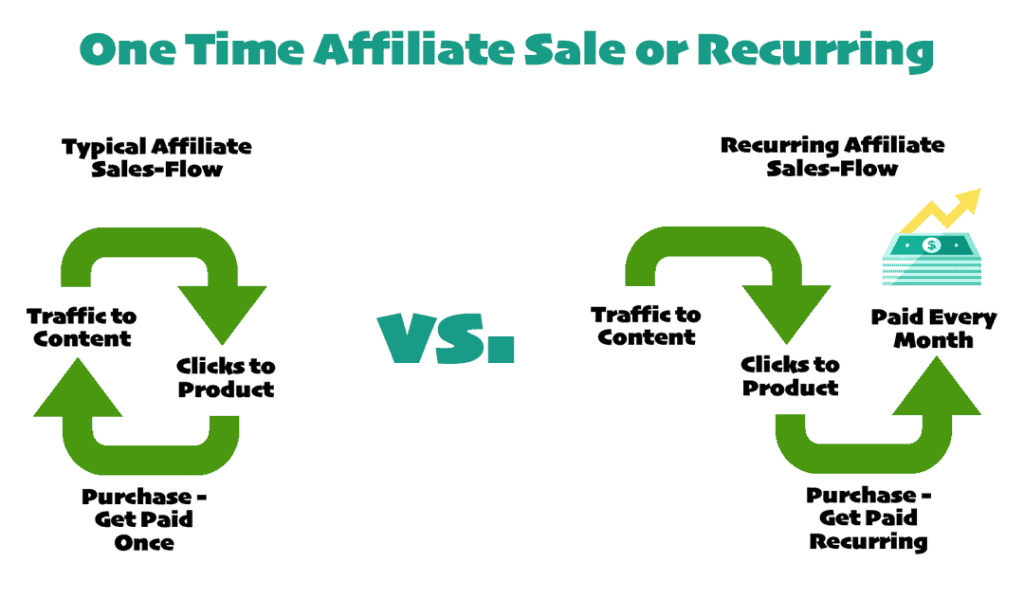 Best Web Hosting Affiliate Programs that help you earn a recurring commission
Web hosting is an extremely competitive industry and there are hundreds of options available for users to host their sites.
But there are a very few hosting companies that actually offer recurring commissions to their affiliates.
Lets look at few examples:
1. Cloudways
Cloudways is a managed cloud hosting platform that offers hosting solutions to major website platforms like WordPress, Drupal, Magento, and Joomla.
How much can you earn from Cloudways?
Cloudways has two various commission structures for its affiliates.
One is "Slab based" where can earn up to $125 per sale based on the Performance Slabs
The other is "Hybrid" where you can earn $30 per sale + 7% lifetime commission
Here's the estimated monthly earnings with their "Slab based" system.
Here's the estimated monthly earnings with their "Hybrid based" system.
If you're looking for recurring commissions, you should pick their "Hybrid" model.
How to join the Cloudways affiliate program?
Here's the link to sign up for the Cloudways account. Simply fill in the required details to access your affiliate panel.
2. Kinsta
Kinsta offers premium managed WordPress hosting solutions that are powered by Google Cloud. They use cutting-edge technology to provide super-fast website load times and offer excellent 24/7 expert support.
How much can you make from the Kinsta affiliate program?
You can earn from $50 to $500 for every referral plus 10% monthly recurring lifetime commissions. The commission payout depends on the type of hosting plan you refer to.
Here's the Kinsta hosting commission payout structure for various hosting plans.
Starter plan $50 commission per sale
Pro plan $100 commission per sale
Business plans $150 commission per sale
Enterprise plans $500 commission per sale
How to get started with Kinsta?
Here's the Kinsta affiliates page to sign up for their affiliate program for free.
3. RoseHosting
RoseHosting offers fully managed VPS hosting services at affordable prices and they have been in the hosting business since 2001.
It also offers an excellent uptime record of 99.99% since 2003. So if you're looking to promote an excellent VPS hosting choice to your audience, RoseHosting is a better choice.
How much can you earn with RoseHosting?
RoseHosting offers a recurring 10% commission on every payment made by your referrals.
The great thing about promoting RoseHosting is once you refer 30 qualified referrals (30 successful sales through your affiliate links), your recurring commission will be permanently increased to 15% commission. That means you can earn 5% more than the rest.
It also offers some bonuses to its affiliates who refer more customers in a month.
You can earn a $50 bonus for referring 10 or more people in any given month
You can earn a $300 Bonus for referring 30 or more people in any given month
How to sign up for RoseHosting as an affiliate?
Visit this page to create your account for free and join their affiliate program.
Hope you would join these "Best Web Hosting Affiliate Programs" and start earning a recurring commission by promoting them.
Cheers!!!
P. Phani Kiran