WordPress is the largest CMS (Content Management System) in the world and there are plenty of exceptional plugins and tools around WordPress. In this post we will focus on the "Best WordPress Affiliate Programs" that will help you earn a recurring income.
What Are Recurring Commissions?
Recurring affiliate programs help you earn commission for every purchase one of your referrals makes, not just on their first purchase. So you'll earn money as long as your referrals remain a paying customer.
Here's a nice illustration of the difference between one time affiliate sale vs recurring sales (image credit).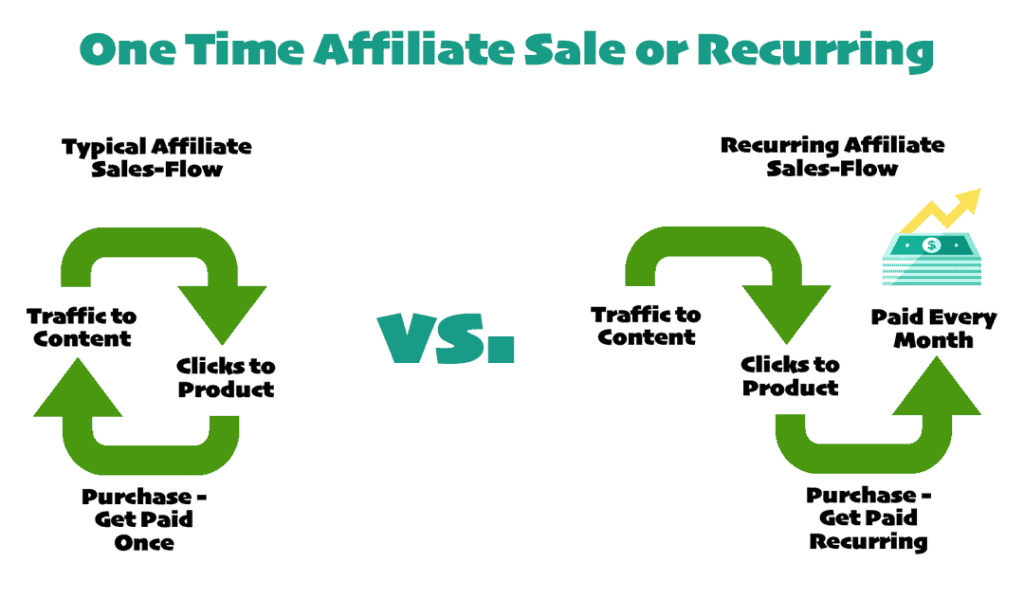 The main difference between promoting normal affiliate products and recurring income affiliate programs is that you can generate residual income for many years, not just once!
Now, let's find out the top affiliate programs that provide you recurring commissions.
1. Elegant Themes-
Elegant Themes is one of the most popular premium WordPress themes which is used by more than 650,000 people worldwide. It also offers a flagship theme and visual page builder called Divi to customize your site however you want.
How much can you earn from Elegant Themes? Have a Look;
You'll be earning 50% recurring commissions on every successful purchase made through your links and they also pay out commissions on yearly renewals.
Currently they have over 30,000 affiliates and Elegant Themes pay out over $3,000,000 per year to them! We also made decent earnings from Elegant Themes affiliate program.
How to become their affiliate?
Visit this page to sign up for their affiliate program.
2. Thrive Themes
Thrive Themes is well-known for offering conversion focused premium WordPress themes & plugins.
How much can you earn from the Thrive Themes affiliate program?
You will earn 35% on every sale you refer and 25% commissions on every recurring payment made through your referral links.
How to become their affiliate?
They have a unique way of approving their affiliates as you'll need to first go through a quick quiz so they can see if you're the right fit for their affiliate program. You can visit this page for more details.
3. SEOPressor Connect
SEOPressor Connect is a premium WordPress plugin that helps mostly with on-page optimization and it also provides instant feedback and suggestions to improve your content in search results.
How much can you earn from SEOPressor Connect?
You will be earning a 50% recurring commission every month, until the lifetime of the referral subscription.
How to become their affiliate?
Visit their affiliate page to become an affiliate for SEOPressor Connect and start earning money.
4. AccessWP
AccessWP is a U.S. based premium WordPress support agency that offers unlimited WordPress maintenance and WooCommerce support. Their pricing plans start at $99 per month so you can earn decent recurring commission if you send more referrals.
How much can you earn from AccessWP?
You can earn 10% recurring commission of any of their monthly packages for the lifetime of a customer.
For instance, if 100 people sign up through your affiliate link with their "Standard Plan", you'll be generating around $1000/mo. That's $9.90 x 100 people = $990 recurring income per month.
How to become their affiliate?
Visit this page to become an affiliate for AccessWP.
Cheers!!!
Phani Kiran