Let's now talk about some of the Best Email Marketing Affiliate programs that offer you recurring commissions. We'll cover email marketing software tools to landing page builders.
What Are Recurring Commissions?
Recurring affiliate programs help you earn commission for every purchase one of your referrals makes, not just on their first purchase. So you'll earn money as long as your referrals remain a paying customer.
Here's a nice illustration of the difference between one time affiliate sale vs recurring sales (image credit).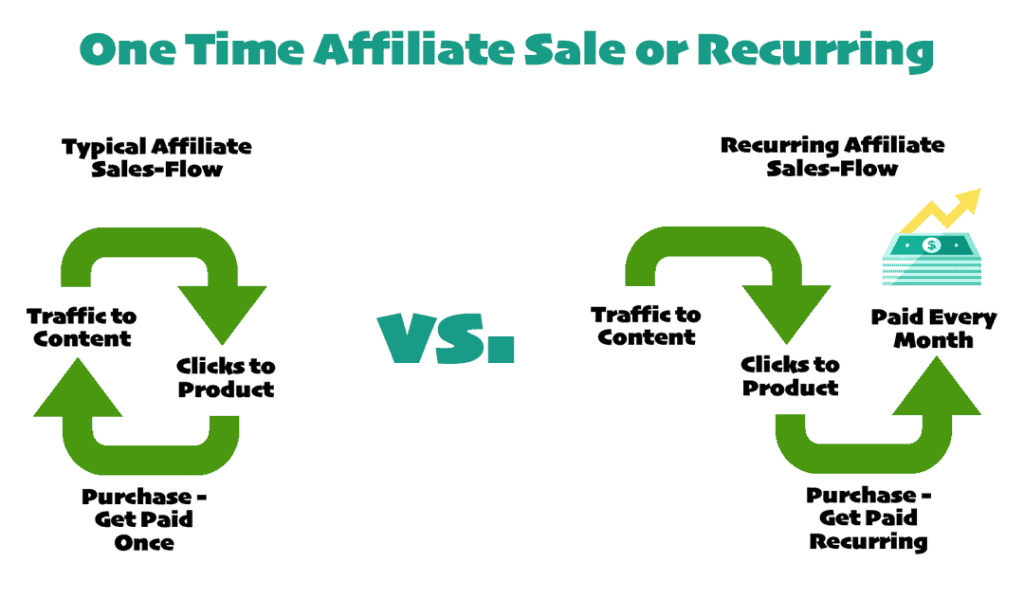 1. ConvertKit
ConvertKit is an email marketing software that is exclusively created for online creators such as bloggers, vloggers, and digital marketers.
How much can you earn with ConvertKit?
You will get a 30% recurring commission from each payment made by a referral who registers an account with ConvertKit and then subscribes through the link with your unique affiliate ID.
For instance, if you refer 115 accounts for up to 1000 subscribers, you can earn $1000 per month. Have a look;
How to become an affiliate with ConvertKit?
Click here to visit their affiliate page to join their affiliate program.
2. Aweber
AWeber is used and trusted by over 100,000 email marketers around the world. It provides excellent email marketing features like unlimited emails, analytics, email automation, segmenting, and so on.
How much can you earn from AWeber?
AWeber offers 30% recurring referral commission with a 365-day cookie duration so you can get paid every single month.
How to become an affiliate with AWeber?
Click here to become an affiliate with the AWeber affiliate program. Once you finish the form, they will create a unique ID for you so that you can start promoting AWeber to your audience.
3. GetResponse
GetResponse is an all in one marketing software solution that provides you everything from email marketing to webinars to landing pages to marketing automation. They also provide 30-day free trials without a credit card so it's easier to increase your conversions.
How much can you make from it?
GetResponse has two affiliate programs that anyone can join.
One is the "Affiliate Bounty Program" where you get $100 (one-time commission) for every account referred.
The other is the "Affiliate Recurring Program" which pays you 33% recurring commission on each successful referral. So every time your referrals pay their monthly bill, you make a 33% recurring commission based on their plan.
How to get started as a GetResponse affiliate?
Here's the link to signup for their recurring program.
4. Leadpages
From high-converting landing pages to pop-ups and websites, you can design anything using Leadpages and it is one of the industry-leading landing page creators and lead generation tools.
How much one can earn from Leadpages?
You'll earn 30% recurring commissions for as long as your referral remains a Leadpages customer.
How to sign up for Leadpages?
Click here to join their affiliate program and they usually approve all their affiliate applications within 1 business day. Once you get their approval message, you can start promoting their product.
5. ClickFunnels
ClickFunnels is a popular sales funnel builder that helps people to easily create highly converting sales funnels within minutes.
How much can you earn from ClickFunnels?
ClickFunnels pays you up to 40% monthly recurring commissions. Here's how their commission structure works.
New ClickFunnels' Affiliates will earn 20% commission
The affiliates who have earned $1000 in commissions in a month can start earning 30% commission
Once you have a minimum of 40 active ClickFunnels' members paying for their membership through your affiliate links for at least 30 days, you are qualified for their 40% monthly recurring commissions
How to become an affiliate with ClickFunnels?
Here's the signup page to become an affiliate with them.
6. MailerLite
MailerLite provides all in one email marketing features including drag & drop editor, landing page builder, email automations and so on.
How much can you earn from MailerLite?
You'll earn 30% of both the initial sale and the recurring payments whenever someone purchases MailerLite via your affiliate link. They will also provide you access to an affiliate dashboard to monitor your referral signups, purchases and the subsequent payments to you.
How to become their affiliate?
Here's the signup page to become an affiliate with them.
7. Instapage
Instapage is a post-click automation platform that turns advertising clicks into more conversions. It offers various features like AdMap, landing pages, experimentation and so on.
How much can you earn as an Instapage affiliate?
For the first year, you'll get a recurring 50% commission and a 30% lifetime commission after that.
How to get started with their affiliate program?
Check out this page to become their affiliate and start earning 50% commission of your referral's first year's purchase and 30% for every year after that.
FAQs About Recurring Commission Affiliate Programs
Here are some frequently asked questions around affiliate programs that offer recurring commissions.
What are recurring commission programs?
Recurring affiliate programs pay you every month (or every billing cycle) on each signup you refer. So you're not earning just one-time, you'll be getting paid every time your referral pays for the subscription of a product or service you promote.
Where to find recurring programs online?
The best way to find recurring programs is to find a product or service that offers monthly subscriptions. For instance, SEMrush offers monthly subscription plans (including yearly billing cycle) along with 40% recurring commissions.
Is it free to join recurring affiliate programs?
Yes, most of the time, it's completely free to sign up for any affiliate program including recurring programs. Some recurring affiliate programs might ask you to start using their product or service to promote their product (example, RescueTime).
Final thoughts on the best recurring affiliate programs
There are thousands of affiliate programs out there that offer recurring commissions but most of them are either outdated or pathetic.
So we picked only those recurring affiliate programs that offer excellent service and features at affordable prices.
Cheers!!!
Phani Kiran